One of the frequent questions that comes up in any discussion about an MFP printer or photocopier is, "How much should one cost?"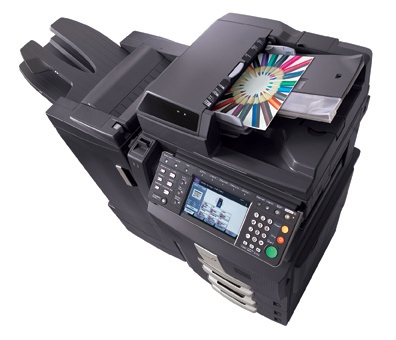 Unfortunately, the simple answer is it depends. On what you might ask?
The first issue is what are you looking to do with it and how big is your need or demand for the device to handle. First off understand that an MFP or multifunction printer can usually handle at least three common functions and often four. These are printing from your computer or network, photocopying from the glass or a document feeder, scanning to your PC or network and fax.
The bigger the device the greater the capabilities in each of these categories. The faster the device the greater the capabilities (usually) in most of these categories. The greater the paper handling and size capability the greater the capabilities in these categories. The higher the functionality the higher the cost.
What should you pay?
Low end. This is the entry level of MFP and can be as low cost as a couple of hundred dollars or sometimes even less. These devices usually come with a USB connection for the computer, combine all four functions and support copying of letter sized documents from the glass. The document feeder/scanners on them are designed for low volume use and will only handle a few sheets of paper at a time. Operating costs will be high on a per page basis as the toner or inkjet cartridges which they require will have a low capacity and a relatively high price. They are primarily designed for home office or very small office use with limited daily volume of paper handling. They are cheap to buy, costly to run and not worth repairing once the warranty runs out. Think of them as being like toasters. If they are toner based they will be mono only. If inkjet they will require you always have colour inkjet cartridges in them whether you use colour or not.
Low volume office quality. This entry level office device will offer more capability and a more robust design. Starting at around $1000 and ranging up to $2500 they offer the ability to handle all four functions and will support a true network connection through an ethernet port. Basic units are usually mono however you will see colour toner based products in this range as well. The speed of operation will be higher and they will offer features like second tray options and in rare cases even a small finisher/stapler. They will handle letter/legal sized paper and may or may not offer a glass which can handle legal.
The document feeder/scanner will have a better design and usually will handle around 30 pages of paper although some of the larger models will handle 50. Paper sources will be bigger with 250 sheets per tray the minimum and some with 500 or 550 pages available.
If you opt for a colour capable unit expect that the colour costs will still be quite high per page while the mono costs will be lower than the smaller units. Some mono based products will offer toner cartridges supporting up to 10000 pages at some pretty low costs. One thing to watch for is the cost of imaging units, fusers, or other secondary pieces as some of these can add up to significant dollars. Ask your vendor for what the total consumable list looks like before buying.
This range of device is often used to support a branch office, small workgroup or as a primary device in small offices with only a few users. This is the minimum level of device that it is cost effective to lease if you prefer paying for the device over time.
Mid level office quality. It is at this level of mfp that the confusion really starts. Usually these devices will offer speeds in excess of 25/30 pages per minute whether in mono or colour and they have a price tag which runs from about $3000 up to 6 or 7 thousand. Most often these units will be leased and the cost of the lease (4 years) will be from $80 to $175 per month depending on the total value of the device.
Letter/legal capable units will be offered at the lower end of the price point but can often have speeds and capabilities which compete with the higher priced units. 45 or 50 pages per minute is definately in the mix for these devices with operating costs as low as 1.5 cents per page. Toner yields will be much better and the print engines on these devices will be very robust.
One area to watch is the document feeder/scanner on these devices. The quality and capability ranges substantially on these models. You have to know how much you will use this part of the device, used for copying, scanning and faxing. Higher priced models will offer more robust feeders and bring less issue if this kind of paper handling is in your need list. In this range fax may be an add on option while the print, copy and scan will be standard.
The higher end mix in this range will offer ledger sized paper handling and stronger feeders. Often they will come with various sizes of paper banks making it possible for you to add substantially to the input volume and variety available to your users.
They will also offer various optional paper output features including finisher/staplers, sometimes with punch capability and even some physical mailbox units to avoid network printing conflicts.
Office level units. Once you move above the mid level the options really open up. Prices can range from the $6/7000 range up to $20,000 plus with speeds up to 75/80 ppm and many options. You will be able to configure the device you choose from a large selection of components including multiple paper sources, various sizes of finisher/staplers and for some brands physical mailbox units. Fax will almost always be an option. Leases for financing will be the norm.
Document feeder/scanners will be very robust and will offer paper handling in the 100 page and up range with upper level feeders exceeding 200 pages.
There will be a few models in this price range which focus primarily on letter/legal only but most will support ledger sized paper and some even 12 x 18.
Colour models will be available in most speed and price ranges and will offer substantially lower colour production costs than the previous levels of devices. Mono print print units will operate at about 1 cent per page with lower costs for higher volumes.
This range of devices is designed to support the print and workflow needs of larger office groups and can often be the only device in a mid sized office. Integrating multiple units in large offices is common and configurations may be customized to meet specific departmental needs. A structured support program is mandatory with this level of device since the impact of operating challenges can have a strong negative result when the functionality is removed from a large number of users. The loss of productivity from performance issues can be significant.
Low volume production and higher needs. This range of devices will be employed in situations where monthly print volumes exceed 35000 pages and scanning volumes start to become very high. The devices utilized here are highly configured and are designed to withstand a daily load of constant use. Lease costs will reflect the specific configuration and combination of tools and options needed by these users. Most organizations deploying this level of either mono or colour capable devices can be specific about their needs and will be able to match them well to the various options available.
Acquiring your mfp or multifunction printer is a matter of matching the level of performance needed for your operation to the level of device which is designed to support your needs. Buying the biggest and greatest when your needs are for only a few pages per day will only lead to unnecessary expense and frustration. Of course buying the cheapest without matching it to your demands for performance will also result in a less than satisfactory result. You may think you will save as you push the small devices to perform but the loss of productivity and the impact on your users, as well as the higher operating costs of the small device will have a negative result.
When buying your MFP consider your need levels and choose to match.
Lee K