Beware. Know who you are ordering MFP, copier or printer toner from.
We have written before about scams which are used to try to hoodwink accounts payable offices into paying for toner that is not needed for their business. One of our clients has just sent us the information on another of these scams.
This most often hits businesses with branch offices or those which appear to be big enough that there will be a disconnect from the payables office and those people who would normally be receiving toner.
The scam artists who undertake these rotten practices are pretty sophisticated and it is necessary for your AP people to be made aware of what they might see.
We thank one of our clients in Burlington ON for bringing this latest attempt to our attention. They shall go unnamed to protect the innocent and also to show appreciation to the people in their Head Office AP department who knew enough to inquire about the invoice they received that looked like this: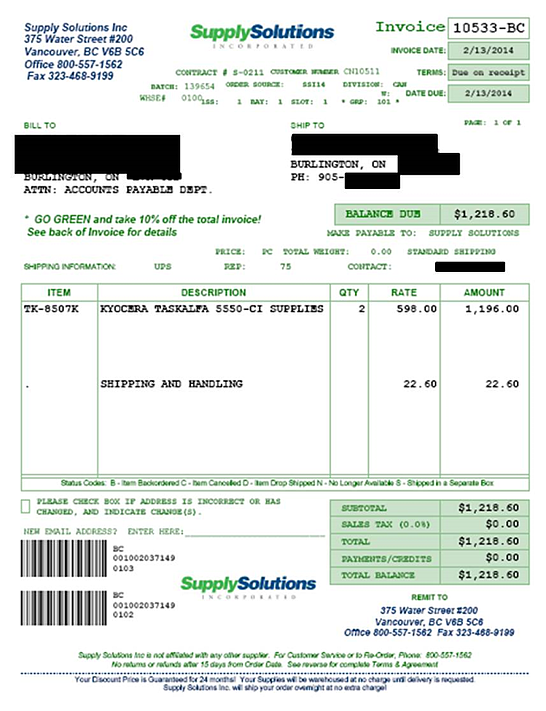 As you can see, this looks pretty official and includes what just might be a great offer: the ability to order more product at this special price and also that they will warehouse it for you for free in case you wanted to order a whole bunch more. Just a couple of problems with this invoice:
The toner price being quoted is only 752% more than the regular retail price of that toner! That's $418 more than each one is worth, and there are 2 on this 'order'. You would be overpaying by $836.

This toner is for a device which the client has in their fleet, but their contract is a toner inclusive contract. They do not have to pay for the toner they order for this device (or any of the other MFPs they have in their fleet). Your overpayment just rose to $1218 !

NO ONE in the company actually placed an order for this toner. The wording is done in a way that makes paying the invoice the actual order authorization.

Finally, the notice comes with a special offer to the person receiving the invoice which makes it really attractive for them to process immediately.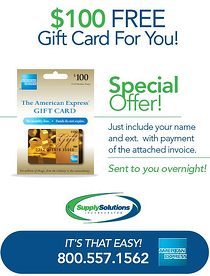 How's that for being really sneaky. Get the person making the payment onside by offering them a personal cash incentive.
So who is Supply Solutions from Vancouver BC? A search for the company and address indicates that Suite 200 is an Executive Office Suite in a building in the business district in Vancouver. It appears to be only a mail drop. Dialing the 800 number reaches a voice mail asking you to give them your company name, invoice number or packing slip number and they will return your call. Don't expect to hear back. To learn more we have to look at the back of the invoice form.
Among their various 'Green" offers, (They want you to think they are a responsible company,) you see in clause seven this is a California based operation with all disputes being subject to the County of Los Angeles, California. Just try to fight this one!
This kind of fraudulent activity goes on all of the time and unfortunately all we can do about it is to advise clients and others when it comes to light. We can pass on the cautions as we have done before in the articles about Printer and Toner Pirates, June 2012 and our original article Unscrupulous Toner Pirates, Warehouse Service Center Inc., May 2012.
Each of these scams has a little different method of working but in most instances they follow a couple of steps.
Someone from a boiler operation makes a phone call to a receptionist or other worker in an office and through a series of quick 'helpful' questions finds out what models of MFP or printers they have and they might also get the servicing company's name.

A few weeks later, an invoice roles in by email, fax or mail asking that the order be confirmed for immediate shipping. The invoice is due on demand and they hope it will get to AP without review.

Sometimes the invoice is directed to AP immediately to bypass any approval processes.
The net result is that in enough instances they get paid an exhorbinant price for a toner that the customer does not really need, nor has they actually ordered it through the normal course of business. You can see that even if they supply the toner, with the huge markups over legitimate list prices (and they probably use grey market toner as well bought for a lot less) their returns on even a few completed transactions are substantial.
Most companies who get caught in these scams will not take any legal action and therefore they get away with the practice.
Please post this blog in a location where all of your employees can see it and refer to it. Make sure that your processes require approvals from qualified people for all toners and supply orders. Check if toner is already included in your contract.
Lee K