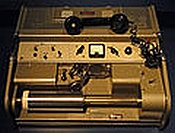 I was dealing with a client the other day and they were trying to decide if they need to add a fax option to their MFP. I asked them when the last time was that they got a fax or sent one? The client said they could not remember when a fax was used. When we discussed it further it was determined that the things they used to do with faxes they now do using scanning capability.
I recently put a small convenience scanner on my own workstation. I have had access to network scanning for years but for a single page document I wanted to transmit to someone it was a pain to get up, walk to the central MFP, scan the file to my desktop, configure an e-mail and then attach the file.
With the convenience scanner I am able to scan a page using the software, once the scan is done (in seconds) the software gives me several options, one of them is to e-mail the file and this opens my Outlook, attaches the file and all I have to do is send the e-mail. Many less steps, much more convenience and much better quality than any fax I have seen.
For most offices it is possible to fully eliminate fax and save the cost of the option or device and more importantly the cost of the phone line. In our area, Burlington Ontario, a business phone line costs $50 plus per month, so by eliminating the fax I save clients $600 per year. Scanning on MFP's comes as part of the package so there is no additional cost. For my convenience scanner the one time cost is $275. You do the math...it's a no brainer. Device cost plus an ongoing expense or a one time low device cost.
Fax was a wondrous technology when it was introduced to mainstream offices in the 80's. In some industries it is still very entrenched, but I suggest that for most general offices you can save the costs of fax lines, fax boards, fax options and use e-mail instead.
Keep track of how long it is between faxes in your office...you will be surprised how infrequently this device is used.
How are you replacing fax? Can you substiture e-mail? Is fax a habit and not a necessity? Share your experience.
Lee K
Photo credit: Muirhead Fax, Wikimedia Commons, Author Sandstein