Last wednesday many major internet sites went black to protest the provisions of SOPA and proposed US 'anti-piracy' law. Among them was the popular online encyclopedia Wikipedia.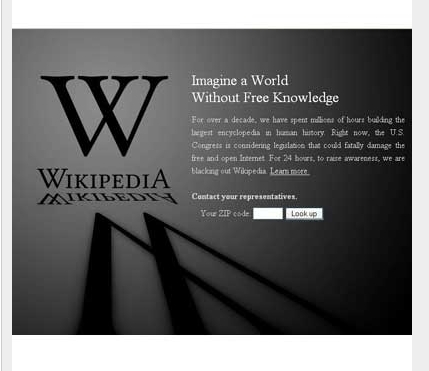 The provisions of the proposals are seen by many of the site holders to create too many restrictions on the use of information on the web. For Canadian companies seeking data storage it makes sense to use Canadian based sources.
The pressure for the SOPA legislation has come from Hollywood and other copyright holders as they fight to keep their information from being disseminated without consent.
Protestors have indicated they think the provisions of the act are too broad and that they will restrict information sharing on the web and draw innocent players such as the ISP's information linking sites into inadvertent violations.
This kind of legislative thrust in the US and other jurisdictions is just another reason to be careful that if you are using data storage systems that you know where you data is going. Many data centres can be hosting your information in the US or even overseas without your knowledge.
While the risk may be low if at all possible it makes sense to seek out data storage in centres in Canada where you know what the legislative framework will be. Being drawn into violation of legislation in the US or other jurisdictions inadvertently can be a real challenge.
Our company operates a cloud based document management system and we have chosen to use a Canadian based data centre to house the servers and all data. Backups are only done onto equipment resident in Canada to ensure that we do not inadvertently create a risk of extra jurisdictional exposure for our clients.
Knowing where your data is stored is becoming an important component of any cloud based computing strategy if you want to limit your risk to legislation that comes from jurisdictions where you would otherwise not be operating.
Do you use file sharing or other data storage services? Do you know where your data is being stored? Would US or overseas legislation affect your use? Do you care?
Lee K
Photo Credit CRN Online