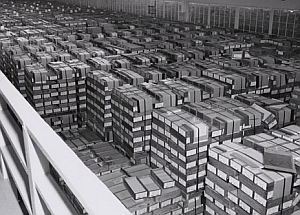 Most businesses spend little time doing clean up on their document storage systems. This is especially true of electronic data but also true of paper records as well.
Why does this happen and what is the problem it creates?
It happens because no one is assigned the task to keep the system clean and it is one of those easily ignored activities which appears to be low in risk and low in reward. Actually paper record storage cleanup is probably easier to encourage because the problem becomes visible unless it is so far removed from sight that it is totally ignored. Developing a good information lifecycle strategy is key. This involves knowing what to keep, where to keep it and when to let it go.
Here are the seven reasons why you must clean your records on a regular basis.
Clean records are easier to access. Digging through the piles of boxes or the unstructured folder systems of most electronic files becomes harder and harder as the amount increases.

Records that are not required for statutory or customer service purposes can become a liability in the case of a court action or some unknown future legal action. If you are permitted to destroy records after a specific time line, then do so. They can never come back to haunt you in a future action that way.

Electronic data storage has become so low in cost that most IT operations look at the size of their filing as a non issue. However as the amount of data on the hard drives grows backup windows shrink and eventually the cost and efficiency of back up can become a challenge.

A byte is a byte is a byte. Electronic data is not prioritized by the technology. When a hard drive is being backed up or replaced and the data is being transferred the technology does not discriminate between good data and bad data. Good data is the stuff you need now and from the past for legitimate purposes. Bad data is all of the stuff you no longer need...marketing files from 10 years ago...old correspondence....multiple versions of presentations and proposals that will never be looked at again.

Hard drives have just become bigger and bigger and cheaper and cheaper. Many workstations have large hard drives as they are the standard in most devices and users put lots of stuff on their local workstations since storage is easy and seems cheap. When the workstation gets backed up to the central backup system (if at all) this unnecessary data gets transferred as well adding to the overall load.

File sizes have grown due to the higher resolutions of scanning, photos, videos, document templates and the growth of graphical representation. Most documents have some sort of graphical component...text is not the only thing used and this leads to large file sizes for all kinds of documents. Storing these takes more of that cheap hard drive space and compounds the growth.

No one wants to be the one to tell people they have to delete, delete, delete and delete their data. And users do not want to have to be the ones to go through their files and do so. So it just does not get done.
One of the best ways to avoid some of these challenges is to create a properly structured electronic document storage or document management system that incorporates retention rules into its design. With retention rules in place the deletion date is developed at the time of creation, thus avoiding the problem of determining when and if it will happen.
On a regular basis a routine is run to determine the documents that have reached their retention date and then they are deleted as planned. The data storage is reduced by the amount of the deleted records.
Similar rules can be put in place with physical storage for paper records but it is a harder process, and more difficult purging, but it can be done.
Do you use a regular retention strategy with your document storage? Are you using electronic or paper storage? Which is easier?
Lee K