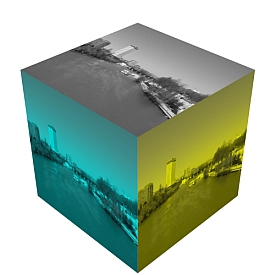 I just worked through a fleet renewal with a client who has been running a number of monochrome MFP devices in their operating branches. This financial institution Is finding that their approach to marketing and providing information to their members is changing and the needs for their print environment have changed with them.
Our first round of discussion about the renewal was last summer when we provided a budget price for them to include in their 2012 budget. At that time the total discussion was that they would continue with monochrome devices in all areas. No need for colour.
In the fall of 2011 I got a request to talk to their marketing department about replacing an old stand alone colour printer with a new MFP with colour capability. Because the capabilities of the Kyocera TASKalfa 3550ci colour MFP they were considering are so much greater than they had experienced before I arranged for their marketing manager and marketing co-ordinator to come in for a product review.
"The marketing team were stoked with all they are going to be able to do," was the e-mail I received from my client after our meeting. One of the comments made was we need to add colour to our branches.
The primary reason that colour became an issue was the way that they have changed the distribution of information in their branches. Instead of using preprinted brochures, their marketing process has built information into their website and their intranet and the branch employees print it on demand for members looking for info. Using the current monochrome mfp has meant providing less than steller materials. With the new colour mfps they will be able to provide excellent material as needed.
The final piece that made the deal work was the substantial reduction in both capital cost and operating cost which is prevalent with the newer colour devices. In the end the budget did not have to be stretched very much to provide a complete refresh using colour devices.
"We're looking forward to being able to bring work inhouse and to producing only what we need at any given time," said my client when he placed the order. "How fast can you get the units to us? "
Are you outsourcing colour printing? Do you throw colour brochures out due to age? Is the web becoming a key source of your marketing material? In house colour production might work if your answer is yes to these questions....
Lee K
Photo Credit:  Magnus Colossus Wikimedia Commons