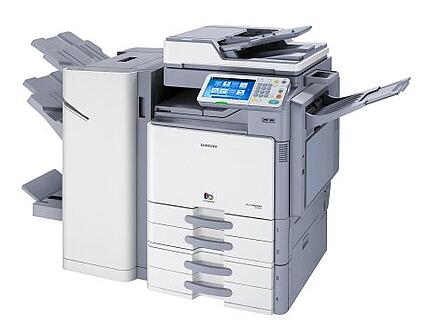 At a special launch held for Samsung dealers in Toronto this past week, Samsung Canada added four new mfp devices to its line up.
What was special about this launch is that it was for a new line of devices which printed, copied and scanned ledger size (11 x 17) documents. The CLX-9250ND and CLX-9350ND are colour based ledger capable (actually up to 12 x 18) mfps running at 25 ppm and 35 ppm respectively. The SCX-8030ND and the SCX-8040ND are monochrome devices running at 30 ppm and 40 ppm respectively.
Why is this unique?
About 3 years ago Samsung entered the North American print market aggressively by offering equipment designed to print only letter or legal documents. Arguing that less than 4 percent of the market requires ledger sized paper they targetted their product to the other 96 percent.
So why the change of heart?
One major reason is that in large print adoptions it is common for some ledger sized work to be needed and if Samsung or their dealers wanted to address these types of adoptions there would be the need to offer a mixed solution matching the Samsung with another brand that could deal with the ledger. Not a great long term strategy for a company that has a reputation for entering an electronics market segment and then setting out to dominate that segment. Offering a full range of equipment is necessary if Samsung is going to become a true player in this market area as they have in others before this.
What is the new equipment like?
With only limited time to work with the equipment and to review the supporting material it is hard to say whether Samsung has produced something special or whether these are also ran products. In discussion with one dealer who has been testing the products in the field for a couple of months he indicated he was very pleased with the products and will be substituting them in many installs vs the brand he has been carrying. Of course only the long term will tell about reliability, ease of use, feature sets and end user comfort.
On first pass the units look clean, offer a very easy to use and crisp interface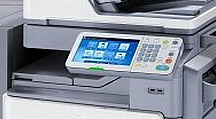 and all of the features one would expect of full fledged mfps including available booklet finishers, a convenience stapler, multi position punch and choices of paper trays.
Toner yields appear good for this level of equipment and the colour output is excellent.
Can Samsung achieve their objective to dominate the print market as well? What will it take to make it happen? How will the other vendors respond?
Lee K