There are several options for the type of scanner you need to match your document management system choice and improve your ability to have a 'less paper' environment. Scanners come in several basic groups and they range in cost from the low hundreds of dollars to many thousands of dollars.
Here are the basic categories to consider: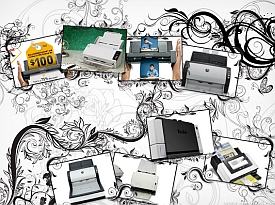 Portable scanners. These products are designed to be loaded into your laptop case and hauled where ever you may go. Usually they are connected through a USB cable to your computer and will feed only single sheets of paper at one time. With a sheet feeder they are not too difficult to use for low volume. Their strength is ease of use, low cost and portability. Cost will start in the $200 range and go up to about $350.

Convenience. Products in this category are generally small, handle limited quantities of paper and will offer duplex capability and colour scanning. The will have sheet feeders which will permit several pages, sometimes as many as 30 to be stacked for quick processing. Speeds of 15 to 20 pages per minute are common. Some of these models will only output PDF format while others can support both PDF and TIFF. They will start at about $550 and range up to $1300 for document feeder only units. If you need a flat bed on it as well then add about $500 to those prices.

Workgroup scanners. These types of scanners are designed to meet the needs of a group of workers or to put through more substantial scanning volumes. If you are going to scan from 20 to about 3000 pages per day you should be considering a workgroup scanner. With stronger document feeders and more speed this type of scanner can eat a lot more paper and do it each day of the week. With proper maintenance (replacing rollers, cleaning etc.) they can last for several years and put through thousands of sheets of paper. Your price for these will start about $1500 can range up to $5000 or more. For this investment you will get a solid tool which will include many advanced features especially anti-jam and anti-double feed capabilities.

Production scanners. This type of scanner is designed for the high volume dedicated scanning operation. They can handle thousands of pages per day and keep up with the most demanding of applications. Usually used in high transcation situations or for high volume conversion for entry to document management solutions, production scanners can achieve well over a hundred page a minute through put. At the really high end over 250 images per minute can be processed. Cost for these units will be in multiple thousands of dollars but to maximize their value you will need to purchase top quality Scan Capture Software to support them. The productivity enhancements of this level of software can help justify the price and support levels of these Ferrari's of scanners.
A final consideration for any scanner purchase is the support you may need to keep them running and up to par.
Portable scanners are like most small devices, fairly easy to replace, subject to loss and therefore most likely not worth a true service plan. Convenience scanners can come with an advance unit replacement where if a problem is diagnosed a replacement unit is shipped and the problem unit is sent back. This leads to fast and cost effective support for a lower cost device. Workgroup and production scanners usually have onsite support agreements put in place since their loss can have a serious affect on many people's productivity. Regular maintenance and consumble replacement is matched with professional onsite service from specially trained technical resources. Don't skimp on this cost as scanners are not easily troubleshot is you don't work on them everyday.
There are other ways to eat your paper to add to your document management system, but a dedicated scanner is an excellent solution in your quest to achieve a 'less paper office'.
How do you scan? Have you looked at choices of scanner to eat your paper?
Lee K