It was recently announced (April 24, 2012) that the eleven unit line of Kyocera TASKalfa colour and mono MFP printers has been awarded the BERTL Best Office Line of the Year.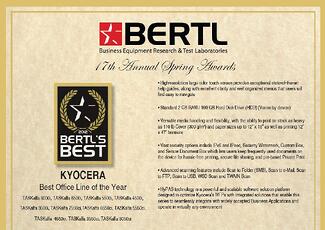 Made up of 6 colour units; TASKalfa 7550ci, TASKalfa 6550ci, TASKalfa 5550ci, TASKalfa 4550ci, TASKalfa 3550ci, TASKalfa 3050ci and 5 mono units; TASKalfa 8000i, TASKalfa 6500i, TASKalfa 5500i, TASKalfa 4500i and the TASKalfa 3500i, the line up is comprehensive across the major range general office and general production needs.
In the award BERTYL indentified several key factors:
the large colour touch screen including state of the art touch guides

Standard 2 GB RAM and 160 GB hard drives

Versatile media handling including 12" x 18" and 12" x 48" banners

Vast security options

Advanced scanning features

HyPAS technology which permits a growing range of special APPS to integrate with the devices.
The Kyocera line of multifunction printers has also recently be recognized as the most reliable line of print devices by Industry Analysts. This is an award that Kyocera has won
many times
over the past ten years.
At the recent Kyocera Document Solutions dealer meeting in Las Vegas new additions to the TASKalfa line up were unveiled and will soon be released to dealers in North America. These include a TASKalfa 2550ci colour unit (25ppm) and a colour printer based upon the TASKalfa 5550ci engine.
What are the key features you look for in your mfp printer choice? Does reliability factor into your decision making?
Share your thoughts on mfp printers below...
Lee K