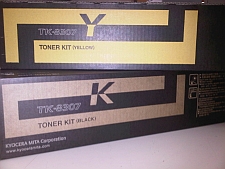 Our company just installed a new fleet of Kyocera TASKalfa 5550ci colour mfp printers in a client site. This installation was as the result of a competitive process and we replaced another brand of colour mfp (Konica-Minolta) which had been in place.
The Question
One of the interesting questions that came from the key contact of our client was, " will we still remove and shake the toner cartridges when prints get light?" This indicates one of the issues that the client experienced (must have been considerable as this was one of the more obvious concerns that came up in the pre-install reviews) and that they wanted to be sure to cover off before deployment.
The Answer
A key to note is our answer to the client. "Absolutely NO!" Why were we so absolute? It all hinges upon the differences in the technologies used by different manufacturers. Kyocera uses a mono component toner system in their devices. This toner system mixes toner and developer in the cartridge as it comes from the factory. Cartridges have a built in 'agitator' which mixes the toner as the unit operates. There is no need to shake the toner during operation. Doing so will not affect the image quality (generally a factor of imaging drum not toner) nor the yield of the cartridge.
Copy Counts Get Confused
A further issue that we identified is when partially used toner cartridges get removed from the device and then reinserted. We use a data collection agent (DCA) as part of our install that tracks toner usage and which then provides early warning to us when toner get low in the copier/mfp. When a partially used toner gets reinserted in the device the DCA gets confused and the toner levels can get improperly reported. They usually level out over time but this practice can lead to improper data. The impact of this is new toners get supplied when they are not needed or worse a low toner warning is not issued soon enough for replacement toner to be shipped to the client when it should be.
Understand Your Equipment's Needs For Best Performance
One of the things this story illustrates is the need for users to request and understand key operating parameters for their equipment. The performance you get will depend upon how you manage the device. It was great that our client asked ahead of time. They did not assume that the old parameters applied to the new equipment. They checked ahead and got the right answer for the new circumstance.
So are you busy shaking the toner to get better performance? What other quirks of operation are you experiencing?
Share your colour mfp printer experiences below....
Lee K