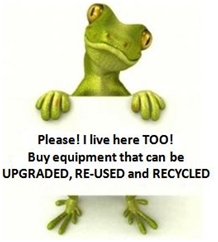 When you buy business solutions for your business, looking for environmentally friendly choices is logical. SMBs in Burlington recognize this need more and more. The amount of material that our resident eWaste partner, Niagara ewaste processes each day shows us that this is true.
My Friend here has a point…and I am in the mood to "RANT" a little on the wee green one's behalf when it comes to office electronics and solutions. Let me tell you about the trigger that set me off this morning.
While reviewing my "LinkedIn Today" I saw a post by Kyle Wiens-WiredOpinion.
Just to summarize he said
"The Retina MacBook is the least repairable laptop we've ever taken apart"...."We have consistently voted for hardware that's thinner rather than upgradeable. But we have to draw a line in the sand somewhere. Our purchasing decisions are telling Apple that we're happy to buy computers and watch them die on schedule. When we choose a short-lived laptop over a more robust model that's a quarter of an inch thicker, what does that say about our values?
Every time we buy a locked down product containing a non-replaceable battery with a finite cycle count, we're voicing our opinion on how long our things should last."
And I might add, our ambivalence toward our environment.
Really, are we that self absorbed that we can no longer see the big picture? After all, we are not throwing out a banana peel here. We need to stop this disposable mindset.
Other office equipment to "RANT" about…
Desktop printers that have ink cartridges that cost more than the printers itself and cost more to fix then to replace.

Equipment that doesn't offer features like, Energy saving mode, Toner save, Auto duplex printing to reduce paper and waste.

Postage Meter Manufacturers' products that have timed ink cartridges and 2 of 3 of those manufacturers that have no interest in making sure the materials used in manufacturing are recyclable.

Having a paper driven business instead of converting to virtual electronic filing to eliminate a good portion of paper waste and disposal of archived and out of date information.
Are we making an informed decision? When we buy something, how often do we really step back and ask how long it should last?
If we want long-lasting products that retain their value, and support the environment, we have to support products that do so. Here are some choices of manufacturers that keep our environment in mind as well as producing a superior product
Francotyp-Postalia Mailing equipment-
Western Digital Green Hard Drives (Eco-Friendly) -
docUcapture- Electronic Filing and Cloud computing
Hope you find this info helpful in your future decisions...share your suggestions and comments below...
JoAnna W
JoAnna W is a Client Relationship Manager who focuses on postage and document management related services.