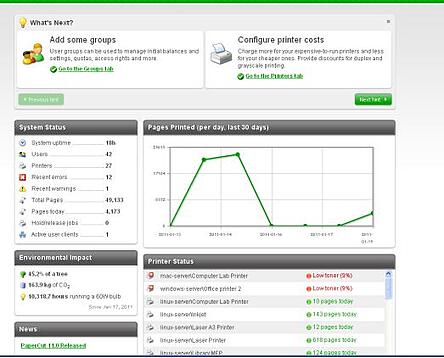 Your MFP and indirectly your network printers can become a part of your accounting system by using tools which are available for running account codes to track your print, scan and fax systems. Why would you do this? There are a number of reasons why this capability is gaining traction in many businesses and organizations.
To track departmental or business group costs of print, scan and fax functions. In this manner the business groups within a larger organization have direct access to and control of their cost of using these systems. Cost allocation is then able to be done based upon actual work performed not arbitrary allocation rules.

To encourage efficient and effective use of print resources. Using rules based software tools it is possible to encourage (or direct) employees output to devices best matched to the type of work to be done. In this type of installation long run jobs get redirected to lower cost, faster devices which are more suitable for long run jobs. Short run convenience jobs might be directed to convenience printers closer to the employee's workstation. In large organizations with dedicated print centres the large jobs may be redirected there to make use of the capacity, skill sets and lower operating costs of production level equipment.

Charge back capability for print, scan and fax outputs. This type of installation is common in many professional offices where client work is charged to the client account. It also could be used in a shared use environment like a real estate firm or a shared office installation. With these types of installations the software records the users' use and a billing record or prepaid account is 'clocked' for that user.

Educational institutions like colleges and universities commonly use prepaid student cards to permit students to access various facilities and equipment within a campus. Using these tools higher quality print capabilities can be made available to students through a pooled print centre or distributed equipment throughout a campus. This can work in churches and other not for profits who could use their unit as a revenue stream.

Colour cost and production control. Job or account based accounting tools are commonly put in place when colour print capability is rolled out for an organization. Since colour printing can be a higher cost than mono organizations want to know who and why people are using colour. Often the discipline that indicates that the prints are being tracked can be a major tool in restricting colour usage to required needs vs an unfettered use.
So how difficult is it to deploy account code tools?
Free or low cost:
Virtually every major MFP manufacturer offers some sort of account code or job costing software package with their devices. Some of these are quite sophisticated and will permit substantial control to be put into place. Their limitations however come from the 'free' or low cost nature of them and their need to be generic. This means that full integration into your accounting processes will not necessarily be provided. Usually reports will come out of the software in a CSV or some other generic data base format which you will need to process to imput into your accounting system. This will be fine for smaller installations but if you are managing a large number of users, departments or accounts a more robust solution may be warranted.
Third party integrated solutions:
There are a number of vendors of third party account management solutions targetted at various industry segments. Such solutions as Equitrac by Nuance, Paper Cut, Pharos Systems, and others offer more advanced tools and also integration with industry specific accounting programs.
Thus if you are a law firm using a specific litigation support software package you may wish to find a print accounting package which offers direct integration with that package. This would save errors, time and billing steps. Similar situations can apply in many vertical solutions where specific software packages are found.
How does the accounting process work?
In its simplest form each time a user wants to copy, scan or fax from the device they enter a code into the MFP to activate the device. Based upon this code the accounting software tracks their actions. When a user prints, a code which is linked to their computer print driver is recorded to match their print output to the pages created.
As sophistication increases the steps above may be integrated with the users network login through Active Directory Integration making it easier to manage the users and their permissions.
For job accounting in a charge back environment instead of recording who did the work, the account for the client to be charged for the work is entered into the software (at the device or through the print driver) and then the page counts of the work performed is recorded and charged to that account. With a fully automated integration between the device and the professional services software this can be an automated entry to the account bill for the client.
Card access can help:
Another tool which has become increasingly popular in charge back use for schools, real estate and other multiple use accounts is the 'swipe' or 'RTF or proximity' card. Either as a stand alone card or as part of the security and access controls of an organization a user can swipe their card at a device and record their use into the accounting software that way. There is no need to remember a pin or number, just use the approved card to access the device.
With these types of charge back software readers can be attached to printers as well as MFP printers making it possible to approve and capture output from a whole network of devices. This is especially valuable in large installations since the relative cost of printers vs mfps is so large. Fewer mfp devices might be deployed supplementing them with lower cost printers for short runs or at varying cost structures placed closer to the groups of users.
As organizations have become more aware of the costs of printing and control and recovery becomes more important, considering the right tools to match your individual needs becomes a critical part of an equipment choice.
Have you investigated print accounting software? Do you have experience to offer?
Its your turn for comment below...
Lee K
Photo credit:  Papercut Software