Sending large scanned files can be a challenge but AccuSender a new HyPAS solution from Kyocera can solve this problem for your office.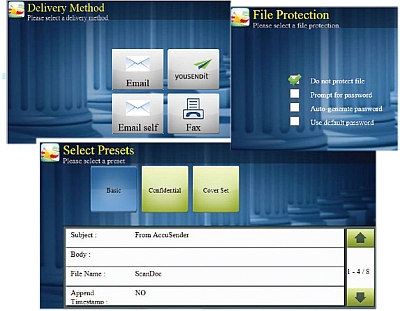 Built to run with the latest versions of their mfp (multifunction printer) devices which provide the HyPAS advanced solution platform, AccuSender permits the efficent scanning and distribution to multiple locations without size limitations. Often email server restrictions prohibit users from transmitting large scanned files. AccuSender addresses this challenge and makes it an easy process.
There are a number of ways to transmit documents using AccuSender.
You can use bar code routing sheets to send the file to multiple destinations at one time. Superb for transmitting to branch offices or other remote sites.

You can password protect files to ensure security and compliance with privacy legislation.

You can stamp outgoing files for identification, including using Bates stamping.

Send options permit an LDAP lookup of stored email addresses, recent email or fax destinations or send to self.

Delivery confirmations via email receipt confirms the document reached your targets.

Conveniently add cover pages from the mfp control panel.

For large files you can connect to individual or corporate YouSendIt accounts.
Kyocera offers over 30 different software packages which are approved and compatible with their mfp devices. These tools extend the functionality provided beyond the traditional print, copy, fax and scan. Integrating the right software tools into a business workflow can increase the value received from investments in mfp technology.
AccuSender is another efficiency tool which can provide low cost, high value return to users. The US MSRP for AccuSender is $289.
Have you struggled with large scanned transfer? How do you deal with the need to send large emails?
Share your comments below...
Lee K
Photo credit: Kyocera Document Solutions