I was talking with one of our Client Support Managers the other night as he recounted a discussion he had with a new prospective client. In describing the various criteria the client had for selecting a new colour mfp (colour capable multifunction printer) what struck me was that image quality never entered the details of the discussion.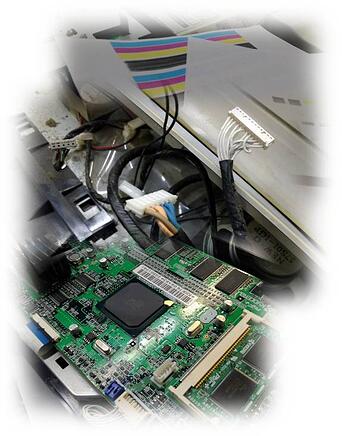 In discussion with the potential client a great deal of time was spent with a description of the frustrations that had ocurred with their current equipment. Many of these centered around slow support response, poor communication and some inherent equipment design features that made clearing paper jams a challenge.
Hearing stories about poor communication and slow response is not new. The incumbent supplier is a national brand that has a nationally focused support team using a long distance call centre and this design has built in challenges as the call centre personnel can never know really well all of the territory they are dispatching to.
On the other hand it was very surprising to me that image quality was not an item of discussion either explicitly or implicitly as part of the support issues. The device involved is a colour mfp coming to the end of a 66 month lease. In the past five and a half years digital colour production quality has changed substantially for all of the major brands. What we take for granted today would have been outstanding and exceptional five and a half years ago. For the users not to have had issues with image quality would seem almost impossible.
What I think was being described was the prevalence of poor customer focus issues had overshadowed equipment issues. In a way this is a shame. When a client acquires an mfp they should be able to expect good support if a contract is taken.
Why is this important?
When you look at the field of colour mfp brands in todays market virtually every brand will be able to produce good quality acceptable business output. There are a couple of exceptions due to some unusual technical choices made by a couple of manufacturers but they are truly exceptions and with caution they can be avoided.
Manufacturers will all tell you there are unique qualtities to their products which differentiate them in the market and there are, but I think these are substantially over shadowed by the dealings between the vendors and clients as price pressures, increased costs and changed models of delivery alter the relationship between vendor and user.
It is the potential frustration of lower quality support, delays in access, or systems which put more of the burden of support on the user which are major components of user concerns. The equipment itself is less of a concern while the level of personal interaction is a higher concern. Since modern mfp devices are utilized to do more than just print and they support larger pools of users, ensuring that the support mechanisms are right up to snuff is an important consideration in a purchase.
As my colleague described the key criteria of the potential client it became increasingly obvious that they were most concerned about determining how we might be able to support their needs differently in a people and performance sense not a hardware sense.
Luckily, we should be able to do this by giving them the ability to discuss our performance and their expectations with current clients who have experienced our level of response and care. Such referrals are readily available from clients of all sizes.
How about you? As a purchaser of mfp equipment do you determine the level of support regularly delivered by checking references? Do you count on the sale person's claims? Do you look at the brand name of the hardware manufacturer or do you look at the dealer making the recommendation? What is your experience?
Your thoughts are encouraged...
Lee K