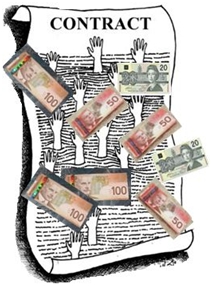 There are a number of ways that IT service can be contracted for your office I.T. network. The most common are managed services plans and time billing plans. There are significant differences between these two, even though they may look like they are similar on the surface.
| | |
| --- | --- |
| Time Billing Contract | Managed Services Plan |
| Pay as you go, usually hourly rate | Pay on an agreed schedule usually monthyly |
| Break fix focused | Operationally focused - Primary goal is keeping System going |
| Customer Driven - they call for work | Service provider driven - they schedule service |
| Reactive in nature - problem is identified, support called | Anticipatory in nature - seek to avoid negative instances |
| Low probability of early corrective action | High probablity of early correction |
| Buy tools and network support components individually | Packaged tools used to manage system always incorporate a management suite |
| Per hour rate drives pricing decisions | Network system target results and scope of work drive pricing |
| Poor predictability of performance | High predictabiliy of performance |
| Porr predictability of cost | High predictability of cost based on scope of work |
A comparison of the characteristics of the two types of plans shows that the managed services model lends itself to better performance in the network operations. Why is this the case?
Using this type of agreement the network support firm has a much bigger stake in the client's environment. Looking for tools, systems and early warning actions become an implicit part of the regular interaction with the network system. In a time billing model the network owner 'manages' the amount of time spent and the areas where the effort is directed.
A modified model of time billing commonly used is a prepaid block of time contract that usually provides the network owner with a reduced billing rate (it is prepaid) and some predictability of amount of expenditure. With this type of contract there is a disincentive for the network owner to call in support. There is a real tendency to horde the prepaid hours until the emergency occurs. What this often means is little things get a chance to grow to become bigger things.
Contrasting this to the managed services agreement since the network support company and the client have mutually determined a scope of work including a level of performance required there is great incentive for the supplier to deal with little things, clear them and avoid any larger issues. The whole operation of the contract becomes focussed on delivered outcomes using tools to provide efficient service delivery (thereby reducing the cost of delivery and improving the contractors return on investment). The result is the client gets the contracted performance while the supplier can use their resources more predictably to focus on top level support delivery.
Can either model guarantee that there will be no network interruptions? The answer to this is probably not. There are so many variables which can affect the ability to maintain an I. T. network that it is almost impossible to anticipate everything. It is however possible to put tools and systems in place to anticipate and indicate many of the potentials. Certainly, the most common problem areas can be watched for and eliminated.
With many of the most common problem areas sorted in advance it is possible to deploy resources to look for the more unusual and harder to find challenges.
In a time billing model, since the ownership for the expenditure lies entirely with the network owner there is little chance that investigation or prevention will be seen as a viable need.
Choosing to go to a managed services plan is not really a decision that should be driven by budget or network size. For a simple, smaller I.T. network it is possible to design a scope of work and a resulting plan model that can be affordable and effective.
For a network that is larger and more complex the scope of work will grow and the resulting managed services plan will grow with it but the end result, a predictable, managed IT outcome should really be the same under either scenario.
How is your network supported? Do you use time billed support? Have you looked at managed services as an alternative? Which would help you sleep each night?
Comment below
Lee K