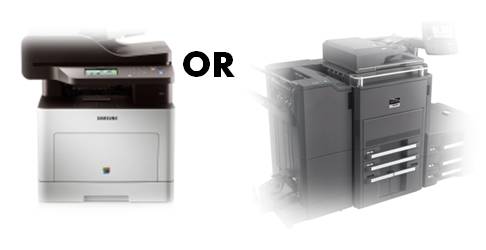 There are many considerations when you purchase or lease a new MFP. Some are obvious but many may not be. Here's a simple checklist of things you might take into account.
Are you going to produce mono (black & white) or colour printing?

How many pages per month does your normal workload require the device to produce?

How many of these pages in mono?

How many in colour?

How many people will be supported by the device?

What functions are mandatory for the device to handle? Print. copy, fax, scan.

What type of scanning will you use? Scan to folder. Scan to email. Scan to document management. At what volume?

How long do you expect your device to last?

What business applications will you interface with the device? Are there any special requirements for your software?

Are you looking for the device to provide additional functionality such as holding forms, feeding a workflow, handling secure print?

Do you need to do cost recovery for output from the device?

For billing purposes?

For internal cost control?

Do you require encryption of documents sent to the device?

Will you need to support IP or remote printing?

Will you need to support mobile printing?

What types of paper will you need to print?

What sizes of paper will you need to print, scan?

How many paper sources will you need?

Will you need assistance with setup on your network?

Will you need assistance with driver roll out to users?

Will you need assistance with scan setup on your network?

What are your training needs?

Will you require ongoing support under contract?

Where will you buy your device? Box store? Dealer? Online?

Is supplier proximity a consideration?

Do you have brand preferences? Why?

Are there lease payments still due on your current device?

Are there performance problems with your current device?

Would a printer meet your needs instead of an MFP?

If you are leasing what is the optimal term for you? Shorter for less service issues? Longer for lower payments?

Should you buy instead of lease?

Is a demo necessary or can you buy from the brochure and dealer recommendation?

Do you require integration with a document management system or other backend application?

Is there a need for support after normal business hours or on weekends?

Is price important?

Is performance important?

Is reliability important?

How will you weigh conflicts between price, performance and reliability?

Is operating price important?
As you can see from the list, figuring out what are your priorities for a new device can be a long set of decisions. Running through this type of checklist can help you determine how much effort you need to put into your decision.
Understanding some of the trade offs between categories of equipment, types of suppliers and comprehensiveness of the product delivery will help you make a better decision that more closely matches your needs.
I see people squeezing very small equipment into situations it was not designed for and then being disappointed with the performance, longevity and high operating costs. On the other hand over sizing a device and putting too big a device into a low volume situation can lead to higher capital costs than needed, poorer performance and higher support costs when the device does not run enough volume to support its operating expenses.
Like most things in life there is a sweet spot for the selection of hardware matched to the needs of the business and at this point the investment becomes good overall.
Are there other questions you would ask? How well matched is your equipment? What about future purchases?
Lee K