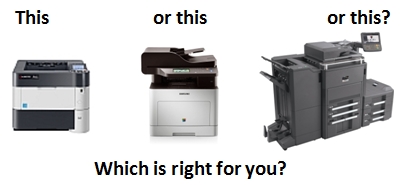 Office equipment buyers have lots of choices when it comes to print devices these days. In our dealership we can source over two hundred different print devices to match to the needs of clients. One of the constant questions we face is which to choose, an MFP (multifunction printer) and centralized print or a network printer.
The choice seems obvious. If you are only going to print, buy a printer. If you need to do other things as well, buy an MFP so you can copy, scan and fax.
In reality this is not a totally obvious choice especially if your needs involve supporting multiple persons, using colour and you have a desire for some optional features like finishing, the ability to staple, hole punch and handle large sets of documents.
The MFP
MFPs come in many shapes and sizes, from desktop units designed to support one or two users to massive production level devices designed to produce tens of thousands of pages of output a month. Their feature sets vary as well, however to be an MFP the device needs to support at least three main functions, print, copy, and scan. Fax is standard on most desktop MFPs and can be added as an option on larger devices.
Larger MFPs also offer many output options for handling sets of paper, stapling, hole punching and booklet making. These additions are called finishers and come in various sizes and capabilities.
Some MFPs only handle letter and legal sized paper. The industry term for these is A4 class devices. A4 refers to the European metric size for letter paper. The other category of MFPs are called A3 (European metric size for ledger or 11x 17 inch paper) and they can process the large size paper often used for construction drawings, large spreadsheets and graphs.
In recent years many colour models have added the ability to handle up to 12 x 18 inch paper to facilitate the ability to print edge to edge on 11 x 17 output. Some models of some brands will produce banners of output on 12 x 48 inch paper as a special option through the bypass or multi tray. This can be handy for producing signage or other special projects although finding paper to fit this need is hard.
Sizing your MFP depends upon several factors: how many users will interface with the device, how many of the functions will be used regularly and by how many persons, print volumes, scan volumes, types of documents being produced (large runs of multiple sets ties the device and impacts others' work.) Location of the device and proximity to the users is also a consideration.
Except at the lower desktop end of the scale, MFPs cost more than printers and therefore there is a tendency to try to push as much volume to a single device as possible. This makes sense and is a good trend however at times it will cause issues in the office as people get frustrated accessing the functions on the devices due to user conflicts. Understanding these kinds of issues is part of the decision process which you and your vendor should consider.
The Network Printer
For many years dealers and manufacturers of print devices have been convincing customers that they should consolidate their print and get rid of printers. Part of the rationale for this was the ability of MFP devices to do 'it all' and at a lower per page operating cost than traditional laser printers. This is often true and many companies have seen significant operating savings from the consolidation process.
More recently, with advances in speed and capabilities of network laser printers there is a move to combine printers and MFP devices into an office mix when more than one print device is needed. Network printers cost less per unit and can offer speeds and capability that is close to those of larger MFPs. 50, 60 and 70 ppm print speeds are available in A4 sized printers with the capacity to handle tens of thousands of impressions per month.
In most instances printers are called on to do letter sized output and the smaller footprint and dedicated performance can match with the needs of a department or workgroup and do so at a lower cost than an MFP as long as the need is for print only.
Users will walk to a more remote MFP to handle scanning or faxing or the occasional copy. Being able to deploy printers closer to the most active users makes a network print environment more acceptable to the users. In addition it builds a certain level of redundancy into the operation.
When doing print assessments and even lease renewals I find myself taking a more open approach to the situation. At times a smaller MFP situated closer to the users who will do the most scanning and faxing coupled with a printer or several printers placed in the midst of work groups can provide a much more effective solution for clients. The capital costs of this solution can be lower than for one bigger MFP and it can provide superior print capability. Operating costs may be a bit higher than if all of the prints landed on one device depending upon the choice of printer. Recently released Kyocera and Samsung printers offer operating costs that can be competitive with many MFP devices and other brands are getting there as well.
Software may make a difference
Multifunction printers are no longer just deployed to provide print related functions. In many instances they are deployed due to the advanced APPS that can be used in conjunction with the devices. APPS ar taken for granted in the mobile world and within the past two or three years they have become a norm in the MFP world as well.
In several of our client installs a primary justification for the Kyocera MFPs they use is the ability to use the scanning capability and integrate it with their SentryFile web based document management system (DM). In some instances they use a scan to folder system and then input the documents into the DM from there. In others they use software connectors which links directly to the MFP and they do direct input using the touch screen on the MFP to manage the process. The choice of which is the 'right' method is a user preference and a workflow determinant. Similar situations are possible with almost any brand of MFP but it takes knowledge on the part of the vendor and the purchaser to be sure to integrate them completely.
When you and your vendor start to review your printing system needs it is a good idea to start quantifying the components of the operation along the lines I have discussed. You may be surprised by how different your mix of devices could be when you do a thorough analysis. Of course if you do not feel capable to do this on your own a knowledgeable vendor should be able to give you guidance. Don't get caught into the 'you have a 50 ppm unit today, the replacement for that is model XXXX' syndrome. Taking a step back and looking at what you want to accomplish with your investment based upon current and projected needs and current capabilities in the devices is important to good decisions.
What analysis do you undertake when print renewal comes along? Does your printer or mfp fit different needs than you experienced before?
Lee K