I just returned from the Kyocera Americas conference in Las Vegas and something really stood out for me when I was looking at all of the new Kyocera copiers (MFP) units on display. While the new line up of products is impressive in the end it is the long list of Apps which will be able to be used with them that is really most impressive.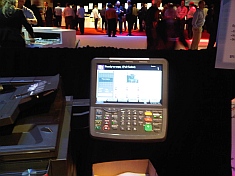 Here's a quick phone shot of the new interface for the almost a dozen of new high capacity TASKalfa MFP devices being launched in the next few weeks.
What stands out immediately is this interface is about the same physical size as most tablets on the market (but not as portable of course) and will offer some similar capabilities. It has a built in browser, has touch screen capability, can be customized to make your use easier and of course if you look closely there is still a big green button so you can make a copy as well.
In the conference presentations we got a quick over view of the over 30 apps which have been developed to date, for the Kyocera HyPas enabled lineup. HyPas is the name Kyocera has given to a java and web based tool kit which permits third parties and the Kyocera design team to build specialized software apps which will interface with the MFP screen and functionality.
So what can you do? A few examples:
You can use a free utility to use an RFID card to authenticate on the device...super in a secure environment.
You can manage accounts and track who prints what, where and when, using a free app.
Hypas capability will migrate down to new versions of Kyocera A4 devices later this year, (the interface is being upgraded to support it) making it possible to enable these apps across a wide fleet of devices from 26 ppm to 75 ppm in colour and monochrome .
Naturally, the manufacturer is excited about the long list of new features and capabilities which are incorporated into their new products. They are impressive and will lead to many happy clients.
What impressed me more though was the wide breadth of applications which are currently available (many free) and the many more that will come in the months ahead. They will make it possible to assist businesses to get more value out of their MFP investment and to use these devices as productivity enhancements in many more ways than just printing paper.
Exciting times ahead in the MFP business.
What would you like to see your MFP do for you that it currently does not? How have you leveraged your MFP investment?
Lee K