One of the really useful features on the Kyocera TASKalfa colour MFPs, models TA3050ci, TA3550ci, TA4550ci, TA5550ci, TA6550ci and TA7550ci is the ability to print sign banners using large stock. These models support banner printing from the bypass tray to paper (or light card stock) up to 12 inches by 48 inches.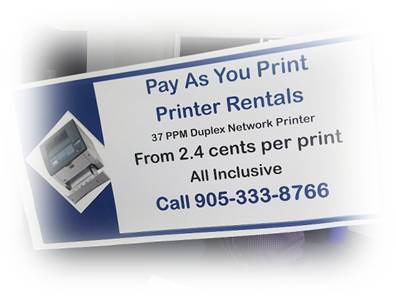 In my experience not too many clients actually use this feature, mainly because it is a bit difficult to figure out how to do it and also because paper in these sizes is not as readily available. We have recently solved the paper issue by finding a supplier who will provide us the paper in cut sizes of 12x24, 12x36 and 12x40.
I decided we should solve the setup problem as well by producing a short video slide show demonstrating how to setup, design and print a banner.
This presentation gives the basic outline of the steps needed to setup the document using Microsoft Publisher 2010 and then print to a TASKalfa 3550ci using banner paper cut to 12 x 14 inches. The same principle is used for all of the sizes up to the full 48 inches.
As outlined in the video it is necessary to design the banner as a 12 inch wide by 24 inch high document even though it appears to be printed landscape. What you are doing is printing a portrait document that is the length (height) of your banner, but rotating the setup by ninety degrees to make it look right.
The other key step is to create a custom paper size within the printer driver to accept the paper stock for the length (height) you wish to print. Once these two principles are understood the rest of the process is not too difficult to manage.
In the example we print a sign for posting in our showroom featuring some new rental printers. Our estimated retail cost of this sign would be about sixty five cents including all click costs, the paper and toner. A similar sign printed commercially would cost many dollars more.
While not something that everyone is going to use on a daily basis, there are many places in any business when the ability to produce a sign, graph, chart, project plan or other document which is larger than the standard letter, legal or ledger paper will be handy. Understanding how to use this feature is just another opportunity to realize value from your investment in your Kyocera TASKalfa mfp.
Does your mfp offer banner printing? Have you tried to use it? How might this feature impact your business?
Lee K