Reports in the financial media in the first week of February have reported that Foxconn of Taiwan has entered into an agreement (about 90% certain) with Sharp to acquire the company for $5.5 billion. This number is a real premium over the stated book value of Sharp which has been under pressure due to losses.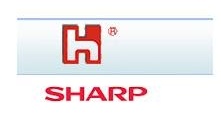 Foxconn on the other hand is a strong tech company which specializes in building product for other companies, most notably Apple iPhones. The speculation of the value of Sharp to Foxconn is the knowledge and manufacturing capability of Sharp in screen tech which could be applied to future mobile devices and other displays.
Here's how the announcement has been covered:
In all of the coverage the focus of the discussions is the Sharp display expertise. Of course Sharp has other businesses it is involved with, especially the print business which has been much speculated over the past few years to be a target to be spun off to others in the industry.
Will Foxconn continue to support the Sharp print business once it has operational control if the buyout goes through? This is something which is not discussed as of yet. The print division of Sharp was reportedly profitable while many of the other components of the company were losing money.
It will be interesting to see if this factor keeps the new version of Sharp in the print industry or whether Foxconn ownership will use it as a funding tool for other efforts within the company.
Early reports see the CEO of Foxconn, Terry Gou, stating that there is no intent to break up Sharp under Foxconn ownership and that they will continue to push the brand forward in its current markets.
Only time is going to tell us exactly how this shift will play out. For those who support the Sharp brand the news is mostly promising as Foxconn is well financed and has relationships with many solid customers. This can strengthen the ability for the components of Sharp to grow their business as well.
When you look at the restructuring that major names like HP, Xerox and Sharp are undergoing you see that the print industry is changing rapidly and the shifts of the market are going to affect everyone. For those companies which are able to keep their eyes on the market there can be opportunities created while the mergers, restructuring and take overs evolve.
Lee K