One of the infrequent tasks that every organization faces at some point is buying or leasing a new print device. Often someone just says, 'order one like the one we have now". Of course since print devices tend to last for some time the one you have now may no longer be in the market and it may not really be the right fit for your current needs. Here are a few of the key decisions you need to consider BEFORE you place that order.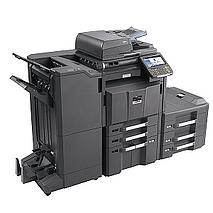 Colour or Mono
If it has been some time since you have looked at his market you need to consider whether the device only needs to handle black and white output or if adding colourcapability might be worthwhile. At one time adding colour came at a substantial premium, both in capital cost and in operating cost. This is no longer the case and if there is the potential to improve your operations by having access to colour handy in your own office then it is worth looking into the options for this choice. Also many colour devices today can print mono output at operating costs close to a mono only device so the operating issues can be addressed as well.
Paper Sizes
When considering print the size of the paper(s) you need to handle has a significant impact on your choice of device. Traditionally most laser type printers installed have been letter/legal sized capable only. This was the dominant device for years. If copy or scan was needed the traditional models included the capability to handle ledger (11 x 17 inches) as well. About 6 or 7 years or so ago the capability to have these features became for common with what was known as A4 multifunction devices. A4 is the metric sized paper which equates to ledger in Canada and the US.
Today you can get most of the functions that the traditional multifunction devices offered in A4 mono or colour and potentially save some capital costs in doing so.
Functions Needed
Regular connected laser printers provide one key function. Print. Multifunction devices offer much more with print, copy, scan, fax and even storage access features bundled in the package. Understanding what your total needs package looks like can direct you to consider the right combination of features which you will use. The range of multifunction capabililty is very broad and figuring out what will fit with your use is an important decision to make.
How Much Paper
At one time it was almost unheard of to add more than the basic amount of paper sources to a printer. With the advent of much faster devices and the expansion of networked print devices it is very common to see print devices with two, three, four or even more paper sources. Additional paper sources can serve a number of functions; more capacity of one type of paper to avoid having to fill up one tray frequently, having multiple types of paper for specific needs, putting letterhead or second sheet paper in a tray for remote selection and having multiple sizes of paper available to support specific jobs. Deciding what is needed in this regard is another important part of the configuration choice.
Support, Supplies and Service
At one point printers were a buy and forget till they broke kind of purchase. Many organizations self supported and hoped that there would not be break downs or problems.
As printers were networked and more and more people were dependent upon each device keeping them functioning became a more critical issue. As well as more functionality wa built into the solutions there was more complexity of operation and need to fast efficient support.
It is very common today to have a fully comprehensive support plan in place where the print vendor provides the device, the supplies and a full capability support program to keep things running smoothly and reliably. Often this will include remote monitoring of the device so that elements of a pro active response can be provided.
Vendor
Whatever print device needs you may have, consulting with a knowledgeable supplier can help you avoid pitfalls and ensure that your investment will give you maximum return from your acquisition. The options available to you for impacting your users' operations are so broad that going alone is a challenging process unless you have spent significant time reviewing the market. This is often something that purchasers don't want to do or are unable to do and finding a reliable vendor is the easiest route for them to go.
These Six key decisions which any print purchaser needs to consider prior to making a purchase are only a quick summary. Whether you are buying a single device or looking at a fleet there is much to know about the options and capabilities of the equipment in the market today. Taking some time to learn and to understand will pay dividends you may never have considered.
Lee K