Most modern MFPs (multi-function printers) include the capability to support network scanning in their base applications. Using simple scan to email or folder systems they make it possible for users to convert paper documents to images usually in PDF format. This capability provides many benefits to users however the basics can often not be enough to make the systems efficient for frequent work.
Kyocera has offered a number of business applications which go along with their MFPs to add additional document processing capabilities to users making it possible to build much more robust workflows using the scanning and other capabilities of the MFP. They even publish a detailed outline catalogue of the many applications and tools available which shows how broadly based the enhancements can be. Most organizations will only adopt a couple of the enhancements but the options are there if needed.
One of the solutions available has been released in a new version, PinPoint Scan 3.
PinPoint Scan permits users to develop easily accessed buttons which appear on their profile right on the MFP touch screen and which then route the scan created directly to a destination chosen by the user. Multiple locations can be created by any user on their own without the need for IT support.
Communication between the MFP and the location chosen on the network by the user are encrypted helping to protect data. Business which use HID cards for security purposes can use readers connected to the MFP to assist their users' interface to the device to further streamline workflows.
PinPoint Scan 3 can help to feed documents into a workflow which is setup to process specific inputs and is compatible with both PC and Mac environments. Using the user defined destinations it is possible to scan directly to specific applications like document management systems and it natively supports common tools like Dropbox, Google Drive and Microsoft One Drive.
Once a user has created their chosen destinations using the PinPoint Scan 3 app on their workstation they are simply able to select the application on their Kyocera HyPAS enabled MFP and enter their pin code to access their personalized destinations. They then select their chosen output location and commence their scan.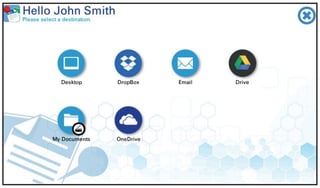 PinPoint Scan 3 supports unlimited users from one MFP and is licensed by the MFP. This permits multiple users in a department or other workgroup to be able to use the capabilities without buying additional licenses.
By providing personalized scanning and making it easy this application can bring better value to an MFP installation with limited cost to the end users and the company.
Looking for ways to enhance the utility of equipment needed in a office without substantial increased costs is one of best ways to get better returns from your investments. Check out the tools which you have available as part of your current or next MFP acquisition. You may be surprised at the impact they can have on your business operations.
Lee K