The date has come and gone for the end of Microsoft support for Windows Server 2003. July 14th was the announced last date for security patches to be provided for this highly successful server software. It has been predicted that as many as half of Canadian firms still have at least one server operating with the 2003 server software.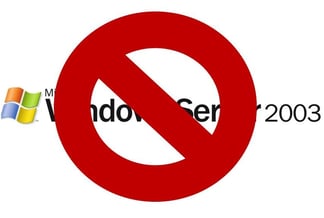 With the end of regular security releases the potential for some sort of breach on these servers to occur increases over time. The warnings have been out for some time but now action is needed. Those players who seem to take joy in finding ways to hack people's systems or who wish to attempt penetration for nefarious purposes will put greater effort into find vulnerabilities in the Server 2003 platform since they know that those vulnerabilities can be long lived without regular corrections.
Since 2003 was such a popular installation the numbers of potential targets are still large, unless companies (you?) take action now to replace the 2003 Server with an alternative.
Of course this becomes a time for upgrade. Given that 2003 Server is over twelve years old, a lot has happened since its release and therefore there are many potential gains to be had with installing newer server software to be the backbone of your systems.
Probably the best bet if you are able is to jump to Windows Server 2012 R2 the current release of Microsoft. There are many robust new features available in this platform that you can use to enhance your operations. Of course one of the first things you need to know is whether your other line of business applications are supported on the platform. If not then you may have to consider other solutions.
It is still possible to install Windows Server 2008 which was the release after 2003 but obviously it is not going to offer all of the latest enhancements nor will that installation likely have as long a life cycle as moving to the more recent release. The one benefit is that many more line of business applications are going to have been rewritten to match up with this version of the server software simply because it is so much later in its life cycle. Most currently offered packages will have been upgraded to this level for some time now and any bugs or issues should be well ironed out.
The biggest challenge for some companies may be if they have custom developed packages requiring the 2003 server software and there may be the need to reprogram or find new alternatives to be able to move on. Given the inevitability of eventually having to replace the server making the changes now as soon as possible makes a lot of sense rather than investing more effort in anything based on running Server 2003. Of course doing this is not going to be easy but it can be accomplished with effort and planning.
Part of the challenge for migrating is making the decision on what to go to. For many companies this involves a decision on whether to remain on their own servers or to move to a hosted or cloud environment. both of these options have value but bring a whole new set of concerns to address before final changes are made. When the decision makers are less comfortable with IT needs or lack in house skills to conduct assessments it makes it even harder to decide. Servers have become the core of many business operations and no one wants to gamble on their operation. This is where knowledgeable help is often needed.
If your decisions are not made by now, you are already behind the curve and will have to put some real effort into catching up. Unlike workstation operating systems, server operating systems have a much larger overall impact on a business and it is much harder to isolate them from the network environment. When XP support was ended some systems might be taken off the network and still used for a while. For a server this is almost impossible since the whole reason for a server is to facilitate centralization and interaction between users on the network it supports.
Windows Server 2003 has done its work for a long time and with great reliability and results for thousands of users. Its time has come. It is time for it to have a rest and be replaced.
Lee K
Photo: Windows Server 2003 logo trademark of Microsoft Corporation.