Kyocera had just introduced a significant upgrade to their multifunction printer lineup. Eleven new models have just hit the street and they offer a major upgrade to the past line from Kyocera.
The TASKalfa 4550ci is the first of these new models we have put into the field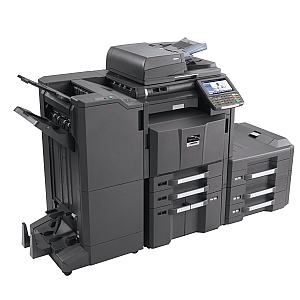 and it shows a significant change. New features include 12 x 18 inch printing from the paper trays, the ability to print banners 12 inches by 47 inches through the multifunction tray and several new innovative options. The most significant of these is the special media tray which can be added to permit printing on special gloss papers up to 12 x 18 inches.
A larger 10 inch colour touch screen interface makes accessing the many software enhancements which this new lineup will support easier and more comfortable. Even our technical team found the interface refreshing and they know what end users need to see for ease of use. Multifunction printers are all about the software that interfaces with them these days and Kyocera has a substantial lineup of new productivity enhancing tools available for use with the new line.
Of course a colour device is all about printing in colour. The TASKalfa 4550ci and it's other models in the line up will not disappoint. I am usually pretty skeptical about claims to gains in colour quality but with this new series there is a significant quality gain. Speed of production both in mono and colour mode is excellent due to the fast processor and large RAM built into the machine.
Of course there are lots of component options which can be added to build more functionality, fax, two finisher choices, booklet making, physical mailboxes (an option my clients have really liked on previous models), the special media tray and optional large capacity inputs as well.
I was pleased with what I saw when the TASKalfa 4550ci left our office and my client is pleased as well. I will watch this unit with special interest as it is the forerunner of many more of the eleven new models (6 colour and 5 mono) that Kyocera has released. Our early sense is this will be a winning product line for Kyocera, but naturally the real proof will be how they work in the field. I look forward to reporting on that experience in the future.
One month later: - Just a quick update on the new unit in the field. So far so good. Client's employees have adjusted to a new interface, they like the quality and all is running well. Good News for a new release....which by the way we found out was the first of this line of machines (30, 35, 45, and 55 ppm models) sold and put iinto the field in Canada...kind of neat. LK
How do you use colour in your office? What experience have you had with colour multifunction printers? Is it the trend to move away from mono?
Lee K