When a decision is made to acquire an MFP printer most buyers focus their attention on the print or copy capabilities of the device. Scanning is also one of the features which is seen to have value for some offices.
An often overlooked area of substantial gain in improving office workflows is the software tools that can be utilized to add to the functionality of the device. In the case of Kyocera HyPAS enabled devices (there are over 20 models in their MFP lineup that support the HyPAS technology), there are several really exciting ways to improve your office workflow using the available software packages.
In the video we illustrate one of the key tools which I think has some of the most exciting applications in most offices. This package is called DMS Link (Version 4.0 is the latest) and it provides many capabilities for using the scanning features of the MFP to input paper documents into various workflow streams. It combines full text Optical Character Recognition (OCR) with data base connectivity and other tools which can enhance document flows.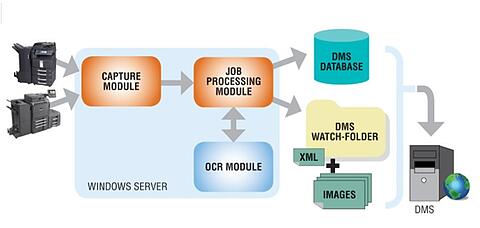 For legal environments it supports Bates Stamp numbering

It can support variable text stamping for approval processes

Can use bar codes for indexing documents and for document separation

Can route e-mails to selected destinations

Watched folders for simple process capture

Output to any data base driven DM package
Watch the video to see how this tool can improve two way communication with your HyPAS enabled MFP printer.
Building workflows that can speed up the process of electronic filing and document processing using simple (and inexpensive) software tools can bring massive savings to an office operation. Instead of users dealing with cumbersome manual processes they can monitor automated routines which carry out the work in the background.
Adding even one simple application to your MFP acquisition can bring a much higher ROI from your investment. DMS Link is only one tool that is available. There are lots more ways to leverage your print devices for gain.
Does your MFP support functions you have not pursued because you have not been shown how? What repeated tedious task would you like to see eliminated in your office?
Your input is welcomed....
Lee K