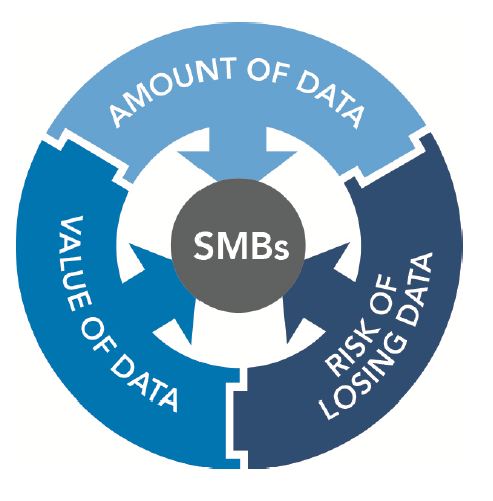 Even though many small businesses still don't have a full fledged backup strategy in place there is a more critical change taking over as more and more businesses understand that they cannot operate without considering what would happen with a complete IT network shut down.
Traditional backup has focused on key data in the business such as accounting, process management, inventory, or other data base structures. As email has become more pervasive as the primary communication tool email archiving tools are also being seen as important. Each of these components are important in a proper backup design, however there is a growing understanding that even when well done these are not enough.
How long can you be without your network?
This key question will guide you as you think about your options. The basic business network is made up of central server capacity connected and supporting desktops and other perpherals on the network. When the server shuts down for any reason, the network becomes largely inoperative. With some designs you may keep some basic functionality through local machine processing and maybe even email but inevitably key processes will be affected.
At one time clients would measure the need to recovery in days accepting that being offline for a couple of days was ok while they operated in a crippled mode for repairs to be made. For most businesses this period of acceptance has shrunk to a few hours and in some cases is measured in minutes. Naturally, meeting these new more aggressive targets takes a different plan than when a couple of days was ok.
Rather than focus upon the selective backup of specific file types, a business continuity strategy focuses on how to build redundancy into the design of the I.T. network so that several key elements are addressed:
Critical data is backed up and remotely stored on a frequent basis.

Complete operating systems are backed up and remotely stored for quick and easy recovery.

Local copies of the key information are available to speed the recovery process without relying on data downloads from 'cloud' or offsite locations.

Human intervention is reduced so that someone failing to come to work still means that the offsite backup system functions.

Ease of switch over is created so that non technical or limited IT knowledge personnel can be trained to handle the basic recovery to operating status.

Performance measures and reoorting is built into the design so you know in advance that systems will work as designed. No surprises that the last backup was two weeks ago when the failure occurs.
These are characteristics which have long been available in enterprise level computing environments. Unfortunately, the sophistication required and the complexity has made this level of performance hard to achieve for smaller businesses.
New solutions which leverage the growth of cloud based storage, computer virtualization and software structures specifically designed to bring this level of safety to the SMB market makes it possible for businesses of all sizes to have access to the business continuity they need.
A brave new world
How much better will you sleep knowing that your complete IT environment includes these kinds of safe guards:
has been snap shotted regularly through out the operating day making it easier to recover work back to a specific time.

local storage of computer system snapshots, server snapshots and virtual versions of each selected device is available multiple times per day.

everything above is replicated to a secure cloud data centre (in Canada for our Canadian readers) and stored keeping multiple snapshots.

you have the ability to dictate how many and for how long you will keep each snapshot.

a virtual copy of your servers is created in the cloud, mounted regularly and you are given a daily verification that it mounted and was ready to go in the event of your main system's failure.

recovery can be made to similar or dissimilar hardware.

you can control the systems or have your managed services provider do this on your behalf including setting schedules for backup and snapshots.

both servers and workstations can be protected if desired.

all of this and more at an affordable price.
By looking beyond the basics of backup to building into your systems the abilities for true business continuity, you have the opportunity to reduce the time lost to IT network issues, hardware failures and localized disasters. With a hybrid model you still retain control of your data while using the cloud as a support mechanism and security for off site redundancy.
How is your network secured? Do you worry about loosing access to key records due to IT problems? Are you vulnerable? Is a hybrid solution an option for your business?
Lee K
Photo credit:  Datto