I have worked in the document management field, earlier called document imaging till some of the copier vendors grabbed that title, for almost sixteen years now. In all that time I have never had as many enquiries about document management, scanning services, workflow and cloud electronic storage as in the past few weeks.
It would be nice to believe that the extra interest in these activities is all about how good we are and about all of the material we have covered in this blog over the past three years, but I know that is not the case.
I am coming to the conclusion that the vagaries of the weather and the many horrible stories of disasters that have hit locations throughout the world and here in Canada are beginning to affect the market. Is it possible that business people are starting to realize that they are vulnerable if they store their files in paper given what has hit in the last little while.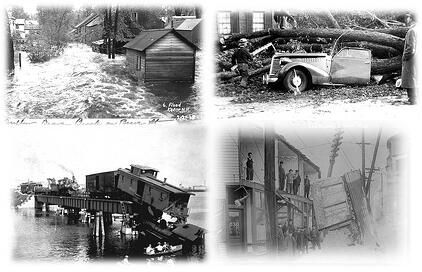 From hurricanes on the east coast of Canada and the US to floods covering the main streets of downtown Calgary and Toronto, to terrible train derailments (just another in the news today of a high speed train in Europe) to freak storms taking out major power systems and a GO train being stranded in the water just outside of downtown Toronto. We are constantly being bombarded by stories where places we would think are not vulnerable turn out to be too much so.
Why would this lead to people starting to look at scanning conversions, document management and disaster recovery at faster paces?
I think that when people face circumstances which clearly show that they cannot totally control their world they seek out ways to bring order to what they can control. Taking a hard look at the places where their business might be vulnerable and finding ways to make it less so seems like a reasonable and sensible way to address this human need. Putting the pieces in place to build less risk, more security and eventually easier operations makes sense and gives an opportunity for at least some return to normalicy to be experienced.
For many of my sixteen years in the field I have felt like Albert Schweitzer bringing his message to the uncharted lands.
We have responded in the past few weeks to people actively seeking: a conversion of a large collection of paper files to electronic for long term storage, conversion of a library of binders of documents for easier access, an electronic filing system for a health care organization, a conversion to electronic files for a legal file, a workflow project to streamline mortgage applications, a way to manipulate scanned legal files for sorting & deletion of blank pages, an accounts payable processing solution which supports operations Canada wide and a financial planning organization seeking a way to support multiple locations.
There are others on the periphery and several that are in the implementaion stage that encompass even more diversity.
Have all of these projects been pushed or caused by a response to disasters? I don't really think so, but I can surmise that the continual experience of seeing unforeseen catastrophies hitting people, businesses and communities which never ever thought they could be affected like this must play a role in the underlying psyche of business people.
One final factor which I think cannot be overlooked. There is nowhere you can go in the business world right now where you are not being inundated with promotions, stories, products and services which promote the benefits and value of the cloud. What is the cloud? Is it not simply the electronic realm of much of what used to be done in your office or on paper. Electronic invoices, purchase orders, payments (just think you can send money by email to almost anyone), messages, quotes, proposals, reports, legal documents, financial records, health care files, Xrays, CATscans, PETscans, prescriptions, orders...and the list goes on and on.
It seems to me that the tipping point may finally have been reached whereby you are moving outside of the norm in business if you do not file electronically, build your workflows and processes using electronic tools, and convert your records from paper (or not generate any in the first place). Perhaps the electronic age is really upon us and our offices and operations are not going to be the same anymore.
Just my thoughts on a busy day responding to enquiries and clients all talking about how they deal with their electronic data.
How about you? Is electonic data a concern for you? How are you coping?
Lee K
Photo credits:  The Commons - Flickr