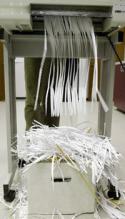 Interesting Yahoo Question posed the other day. What is confidential Paper Shredding? The common answer seemed to be -" Once a paper Document was shredded it is nearly impossible to reassemble."
Nearly impossible but doable with a lot of patience and tape-if the document was shredded with a strip cut shredder. Depending on the width size of the strip cut- just like a jigsaw puzzle-if someone desperately wanted to - unlike Humpty Dumpty the document could be put back together again.
When purchasing a Shredder you need to know what is being shredded and just how confidential the data on the paper (or electronic media) is. If it contains highly sensitive data- you need to get a Cross Cut Shredder- and the document will be shredded like confetti at a wedding. Cross cut shredders cut in different size "squares"- the smaller the "square" the higher the security value assigned to the shredder.
You also need to know who is shredding the data. If you are using an in-house shredder- and most offices should have a Shredder- and a policy for what is to be shredded- and what paper can be safely placed in a recycle box.
Read More