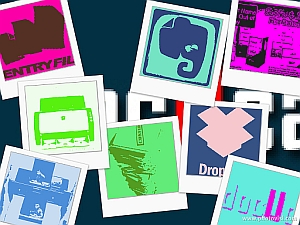 I have been involved in configuring and supporting electronic filing in southern Ontario for almost fifteen years. In the past few months I have been pleasantly surprised to have more people inquiring about electronic file storage. I think one of the reasons that it is more acceptable for people to consider a less paper storage option is because they are becoming familiar with personally focused online file storage options.
Personal Storage Options:
Online personally focused file storage software options such as Dropbox, Evernote, One Note, and many others are readily available at no cost to users. Naturally there is a need for these companies to make money to exist so they all offer more advanced or comprehensive options for payment. You can however develop a fairly significant file system in any of these packages which can support your record keeping without the need for paper.
In addition, users are familiar with video and photo storage and sharing sites which permit you to upload, display and manage your creative content online. Generally, at low or no cost.
This ability for everyone to access personal electronic filing has made the technology a much more acceptable option in business as well.
Mid Level Cloud Based File Storage:
There are many options for virtual cloud based electronic filing systems available on the web. Offering the ability for users to develop a document management system with little or no IT investment makes these a compelling choice for businesses and other organizations who can be comfortable putting their data into the cloud. Of course you do need to know who is storing your data and where it is being stored before you commit your important records to the service, especially if these records are such that they support statutory compliance needs.
Most online file storage services charge a per month subscription fee for the service to be used along with a storage capacity amount above a minimum level of data.
It is possible to provide good long term service with these types of systems as long as you are comfortable with the terms the supplier has around data redundancy, backup, security and location of storage.
In-House Document Management:
The next step on the continuum of electronic file storage is installing your own electronic document filing system in your premise. Doing this requires acquiring the software, computers, file storage space, backup and other components but it provides for control over your records in your premise which is a comfort level that many organizations must have.
It may also permit better performance for document retrieval as the records route internally on your network versus using the internet or other outside infrastructure.
Of course to manage a system inhouse you have to provide the IT expertise, the manpower and the maintenance to keep a system running.
With the changes in hardware and software pricing an in-house system will not be as much of a sticker shock as it might have been even a couple of years ago.
Enterprise Level Document Management:
For very large organizations or for those who have a need for very high levels of document level security there are major software packages which can do it all. They are feature rich, usually modularly based, and have many advanced capabilities. They have tools for customization and direct integration with other software packages such as ERP systems.
The complexity of these systems usually prices them out of the realm of consideration except for large national or multinational organizations who can realize the gains that their high price tag will provide. Devoting top IT resources to maintaining these systems will be required.
Everybody is Doing It:
Whatever the level of your need and your ability to invest, it is safe to say that everybody is using some electronic file storage today. It may be only a few files dumped into a Dropbox or a photo file system like Fickr. It might be a subscription to a cloud based, business focused document management tool. It might be in-house at the SMB or departmental level or at the enterprise level.
Electronic filing is here and active. The only question is about the scope of the integration and the effort you will make to reduce your reliance on paper records and move to more electronic filing for security, ease of use and cost.
Are you using personal electronic file storage? Have you applied electronic filing in your business? If not is it a consideration soon?
Lee K