The landscape for ownership in the printer and MFP business is constantly changing as the field matures further and the impacts of digital vehicles continue.
One of the most recently announced changes is the proposed sale of Lexmark, which has been on the market for over a year, to a consortium of Chinese based companies headed up by Apex Technology. Apex is certainly not a household name. It is a company that primarily makes component parts for compatible and remanufactured printer cartridges and has sold its products primarily to companies which compete with the OEM printer companies.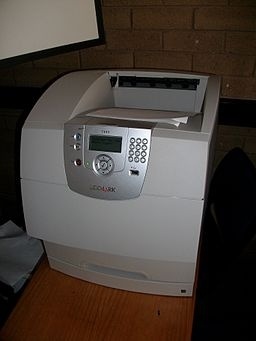 For Apex to be the primary company in a buyout of Lexmark as longs standing OEM printer manufacturer which has fought off the compatible and remanufacturing industry aggressively is kind of unusual. However from the point of view of Lexmark shareholders, to be paid a premium over stated stock values of about 30 percent appears pretty compelling considering the challenges the company has been facing in the market.
Other participants in the buyout plan are venture capital companies from China which have strong positions in the Chinese based technology industry. This grouping could potentially position Lexmark to become a stronger OEM supplier in the large Asian market by leveraging other connections within the consortium partners' businesses.
The buyout is subject to a number of regulatory requirements both in China and in the US but similar sales have been approved in other segments of the technology industry so it is probable that the deal will be able to close.
Lexmark is supposed to remain as a stand alone entity under the deal with its corporate offices remaining in Lexington, Kentucky.
Its hard to predict what the news will mean in the North American market where Lexmark is seen as a home grown entity having been launched as part of IBM and eventually spun off as an independent company. Lexmark has long run second place to HP in North American printer sales but in some ways has been much more successful in positioning itself in the MFP and solution/software components of the industry.
It acquired Kofax a company which focuses on processing software for the imaging industry and advanced handling beyond print format. Integrating some of these technologies into its offerings has made Lexmark appear to be more than just another printer manufacturer. What this will look like under the new arrangements is up for speculation but there is knowledge and skill sets here that are important to any print or document focused entity.
Analysis of the deal is a bit complex as the interlocking components of the venture capital players show widely varied involvement in the technology field in China and beyond.
The $3.6 billion price tag to the all cash deal shows how much potential there still is in some of the legacy print companies. Other consolidations may come as time goes on as the industry continues to rationalize and restructure. The proposed buyout of Sharp by Foxcon is one of these consolidations as a mobility manufacturer primarily focused on supply to name brand tech firms like Apple becomes the owner of its own high recognition brand.
Both HP and Xerox have taken steps to separate their businesses into groupings which better reflect (perhaps make it easier to focus) the differences between the traditional print focused areas and the newer process and software business models. The jury is still out whether either of them will be successful with the new structures but clearly it does help the newer areas of the business differentiate themselves from the traditional side.
There are parallels here with what IBM did with spinning off printing to an independent Lexmark and computer hardware to Lenovo. Eventually Lenovo has ended up with the server hardware parts of IBM as well while IBM has pretty successfully transformed into a services focused organization.
Can others do this as well? We are only going to see if this is to happen as the changes get made. Certainly, if Lexmark is able to grab a bigger share of the Asian Pacific market though this new organization then its potentially going to have the means to figure out how to blend or shift the two sides to its business.
I don't know how far Asia has moved from the print page as the core tool of business that was been so eroded in North America. If there is a lag or less of a push for these kinds of changes, then that may be the justification that the buying consortium sees. On the other hand it may be nothing other than a bit of a fire sale that they can take advantage of in the short run.We are going to see pretty quickly I would think.
Interesting times in the document business both locally and internationally.
Lee K
Photo credit: Bidgee [CC BY-SA 3.0 au (http://creativecommons.org/licenses/by-sa/3.0/au/deed.en)], via Wikimedia Commons