Kyocera Document Solutions Canada has announced the release of upgraded versions of the popular TASKalfa series of mono and colour MFPs.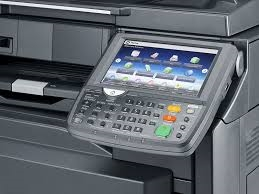 Mono
Offered in three speed ranges, the TA3501i, TA4501i & TA5501i (35, 45 , 55 ppm respectively), mono devices will bring several new features to the range. Most notably is an enhanced touch panel which will make accessing addon applications easier and more intuitive. This tablet type panel will permit users to more easily select their application whether in copy, fax or scan modes and will make it possible to reduce the number of 'clicks' needed to carry out their work.
Colour
The new colour models are the TA3051ci, TA3551ci, TA4551ci & the TA5551ci (30, 35, 45, 55 ppm respectively), which now have a new interface for adding optional finishing features, expanded standard memory (3.5 GB) and continue to provide the ability for 3 tiered colour metering for support pricing.
All Models
Each of the seven new models sports a Dual Core Processor and expanded standard memory to speed the processing of complex documents. Tab printing is now supported throughout the line as well as the previously available 12 x 48 inch banner printing. There is more flexibility for paper sizes through the paper trays which means that those with non standard paper sizes can have more capacity on line.
The scan module will include the ability to produce searchable PDF as well as standard PDF output. A Wireless LAN connector is available. Apple AirPrint is available for simplified printing from Apple devices as well as the Kyocera Mobile Print App which permits more advanced print features as well as scan to your mobile device.
The biggest obvious change will be the new touch screen interface which users will see when they work at the device. With touch swipe capability the screen will make it easier for users to move between modes and to access add on apps through the Kyocera HyPAS application system. In previous models menus were tiered and hidden while on the new ones they will become part of the enhanced swipe screen.
Eco Features
Recognizing the push to reduce energy consumption wherever possible the new lineup offers a deep sleep mode which shuts down all energy use except the internal processor. When work is to be performed only the components of the device which are required for the function being used are started. This means if you are sending a print job there is no need to activate the image scanner or the control panel as these are not required to produce a print. Similarly, if the job is to be a scan job then the components needed to print (fuser, etc.) are not activated. The power reduction available due to the new eco modes is as high as a 40% improvement over previous models.
Common Components
One of the key benefits of the line is the ability for paper handling components, software and the user interface to be common across the whole line up. These include multiple paper trays of varying sizes, large capacity trays, two finishers with staple and punch options, booklet capabilities and much more. One of the previous popular options has been carried over into the new models with the ability to add physical mailboxes to the finisher providing individualized output locations for network use.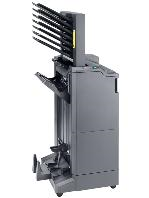 Product upgrades are common in the multifunction printer field and it is normal to see enhancements every couple of years. As field experience
is gained from a model run manufacturers make running changes primarily through software but eventually they find it necessary to incorporate more improvements than is possible on current models. This refresh by Kyocera reflects their commitment to continue in building a reliable and solid line up of equipment as a platform base for productivity enhancements in software.
It is telling to see that most of the changes provided in these new models are focused on productivity improvements and software changes rather than specific hardware pieces.
Pricing has not changed significantly from previous models which shows how added value is constantly being built into technology refreshes without additional end user cost. Too bad other elements of the economy could not do as well as the tech sector seems to have been able to accomplish providing more functionality and benefits with similar or lower costs with each new generation.
Lee K
Photo Credits:  Kyocera Document Solutions