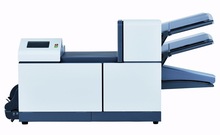 Folder Inserters are a category of mailing equipment that too many potential users either don't know about or don't understand. For organizations with a need for repeated mailings in medium to large volumes they can be a substantial time and cost saving solution.
Here's a quick summary of some of the things to consider when looking them over.
Important Questions
How many different jobs am I going to need to set up for?
What is the highest amount of sheets I am going to insert into one envelope?
I need to insert adverts that are half page like a coupon (this will require a 2nd feeder called an insert feeder tray) - put it on your want list
I need to insert a second full sheet advert after perhaps an invoice (this will require a 2nd full feeder tray) - Perhaps a third as well
My confidential invoices are more than one page what are my choices here as to folding and inserting?


Check – Is your printer OMR or BCR (optical mark recognition) capable? (This is the process of capturing human-marked data these barcodes can tell the folder inserter how many pages need to be put together for the one envelope.) Very important for confidentiality and security especially when pages are various sizes coming from different feeders. If this is the case you need to make sure the folder inserter is "OMR" capable as well. You also want to ask how the folder inserter "COLLATES" (In printing, the term Collate refers to the gathering and arranging of individual sheets or other printed components into a pre-determined sequence. Basically, Collating creates consistent, logical sets from multiple parts.) This means the pages are pulled separately then folded in order together. You also want to make sure your adverts can get nested within or folded on their own.
If you manually separate your invoices you may want to staple together to avoid wrong information going into an envelope so your question is, will the folder inserter take "STAPLES?"
I have several different size envelopes and the address location varies -How does this work?
How many different folds can the folder do that will assure the address is shown properly in the envelope window
Make sure you understand what machineable envelopes are so you don't create an issue when folding and inserting (example the dreaded invitation style envelopes)= non machineable
How user friendly is the machine to be able to set this up if a job changes or does that require a service call.
As a vendor, (Leppert Business Systems), we always request samples to test all the client's materials to make sure they meet the unit's specifications. This also stops clients from finding out after the fact the machine can't do the job it was bought to do.
How do I figure out how robust a machine I need?
Read More