One of the great benefits of technology available to businesses today is being able to automate what was commonly a routine process which in a manual paper based world has taken extra time.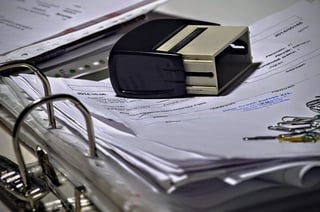 Every business has to deal with the drudgery of accounts payable or payment of invoices. This process of paying for the materials used in your business, the products you sell, matching packing slips to invoices and the other components of your operation goes on day in and day out every month. For many businesses it can become an increasingly challenging process as discounts for early payment, deadlines for payment penalties, which bills get paid online and internal approval processes get more and more complex.
When managed through a less than rigorous manual process it is easy to see mistakes being made. These can be simple ones like double paying an invoice as a first copy is processed and due to a delay in routing a second arrives to a different or even the same AP clerk many days later. Trying to keep up it gets processed again and double payment goes out, perhaps to get caught by the supplier but also easily missed and resulting in extra charges.
As your transaction volumes or supplier orders increase, the ability to handle the number of payments needed takes more time and usually more people. This grows the overall cost of the per invoice processing and this transaction growth can lead to higher admin costs and staff time burdens. If your operation involves multiple departments or people overseeing the purchasing, multiple locations and a growing list of suppliers it is easy to see why this area of the business can quickly get out of hand.
Studies show it costs between US$7 and US$50 to pay a single invoice using manual processes.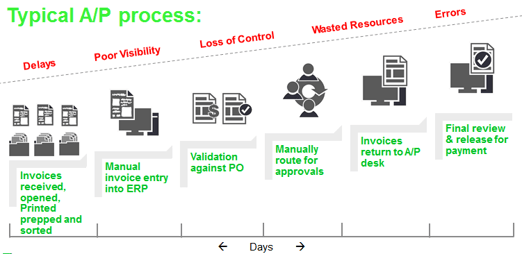 Managing the cash flow of any business is a critical component of success and cash flows are made up of two primary pieces. Accounts receivable being the big source of cash, generally a result of sales and accounts payable being only one of the outgoing components, with payrolls and overheads like benefits being the big additional items.
Alternative processes are available
Large organizations have long worked to create alternative ways to process and deal with the invoices they receive from their suppliers in their quest to obtain the Paperless Office (or at least get to a less-paper office).
Really big, dominant organizations are able to force their suppliers to comply with structured electronic invoicing and payment systems which can largely bypass the conventional AP process. Automotive companies and big retailers like Walmart come to mind when we think of this kind of process alteration.
The ability for mid sized and smaller firms however to dictate how they want to be billed is limited and they have long been left to the traditional paper based systems.
In recent years there have been some moves to build electronic systems, often focused around going paperless using emailed PDF copies of the invoices which would have been traditionally printed and mailed. In the end these processes help as they provide both parties access to convenient electronic documents and the end of traditional paper handling and filing systems. However the steps that you must go through for proper AP recording and payment are very similar to dealing with the paper invoice, and you need a system to ensure compliance of your new digital storage formats.
ERP systems may incorporate AP processing tools that go beyond the basic accounting and cheque generation steps and start to build a workflow around the handling of invoices. Their common weakness however is the capture of the 'billing info' which is the substance part of every invoice.
Recognizing a supplier, matching to the appropriate order, matching to a purchaser order if one has been used, routing to the appropriate approver(s), capturing the data into the ERP system and subsequently producing and recording the payment is a short form list of the steps which are needed to pay the simplest of invoices.
Automated tools become available
A class of software tools have been developed which provide a means to automate much of the routine steps of the AP process. Traditionally these have been dedicated tools which require significant IT resources to set up and maintain. Often there is a need to integrate a capture tool for both paper and electronically received bills and figure out how to manage its delivery to the AP software. The apparent complexity of implementing this kind of solution has kept many organizations from attempting to investigate let alone adopting the technology. However the gains once put in place are significant:
Invoice processing automation generally reduces handling costs per invoice by 50% to 80%.

The cloud offers potential
With the advent of specialized Software as a Service, (SaaS), solutions it is now easier for businesses to consider investigation of these kinds of tools. Not having to build internally all of the capability of a system makes it easier for some organizations to take the jump and start to investigate the potential of an improved process. An example of this is Readsoft Cloud based AP processing.
Cloud based systems have the potential to expand the availability and the ease of entry for those who have become tired of the problems associated with their manual invoice payment system and who would like to apply technology intelligently to this challenge.
In future articles we will delve more fully into the capabilities of this technology and the types of integrations that can be made to fully build a true AP automation process.
Lee K & Ian L