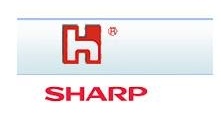 Reports in the financial media in the first week of February have reported that Foxconn of Taiwan has entered into an agreement (about 90% certain) with Sharp to acquire the company for $5.5 billion. This number is a real premium over the stated book value of Sharp which has been under pressure due to losses.
Foxconn on the other hand is a strong tech company which specializes in building product for other companies, most notably Apple iPhones. The speculation of the value of Sharp to Foxconn is the knowledge and manufacturing capability of Sharp in screen tech which could be applied to future mobile devices and other displays.
Here's how the announcement has been covered:
In all of the coverage the focus of the discussions is the Sharp display expertise. Of course Sharp has other businesses it is involved with, especially the print business which has been much speculated over the past few years to be a target to be spun off to others in the industry.
Will Foxconn continue to support the Sharp print business once it has operational control if the buyout goes through? This is something which is not discussed as of yet. The print division of Sharp was reportedly profitable while many of the other components of the company were losing money.
Read More